Herbalife Nutrition and Yamaha Distributors South Africa unveil bLU cRU partnership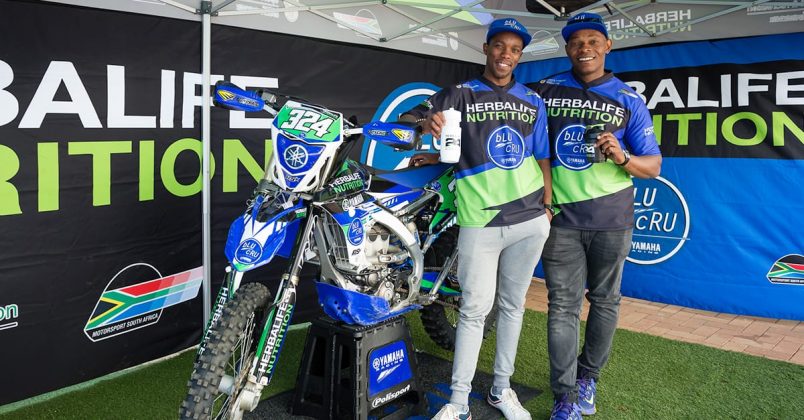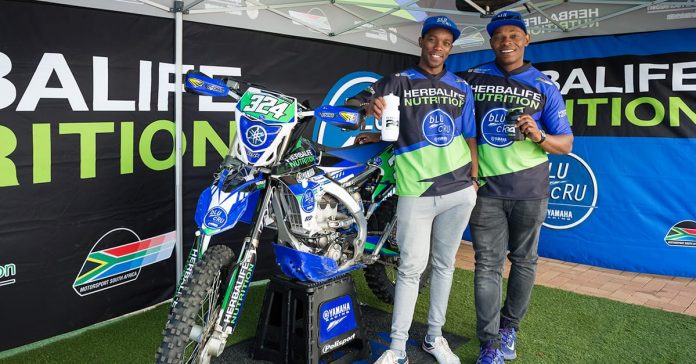 Herbalife Nutrition South Africa has announced that it will be partnering with Yamaha Distributors South Africa (YDSA) as joint title sponsors of their endurance off-road, factory-supported, motorcycle racing team, the Herbalife Nutrition bLU cRU Yamaha Racing Team.
Yamaha created the bLU cRU Yamaha Team in 2017 to provide a stepping stone for the next generation of off-road motorbike endurance racers who come from disadvantaged backgrounds. Being selected on merit for the bLU cRU team provides the first-tier goal for ultimately being selected for the Yamaha factory team.
"We're extremely pleased with this new partnership as this is the first time that Herbalife Nutrition South Africa will have ties with the sport of endurance off-road motorbike racing," says Thilo Naidoo, Herbalife Nutrition's Country Director for Southern Africa. "The bLU cRU team's passion and commitment to excellence align with our values at Herbalife Nutrition and we hope to help them in their quest to becoming part of Yamaha's factory team.  We also believe that our support will help raise awareness around the importance of nutrition and leading a healthy, active lifestyle."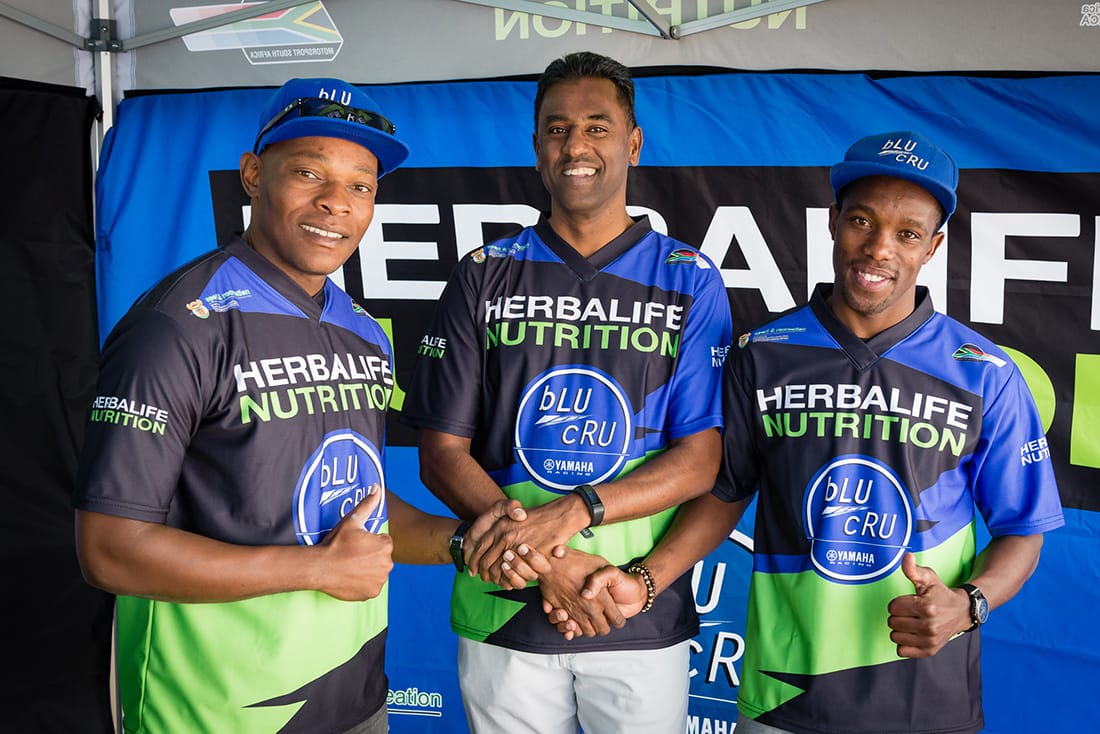 The Herbalife Nutrition sponsorship is both monetary and product based. Leveraging Herbalife Nutrition's expertise, the sponsorship will lend nutritional assistance to the bLU cRU riders.  This will include product and product support. The Company's Herbalife24 range offers comprehensive performance nutrition for athletes and amateur sports enthusiasts. The products are specially formulated for pre-, during- and post-workout nutrition and will become an integral part of bLU cRU's performance regime.
Commenting on the new sponsorship agreement, Adrian Bac, Team Manager of the Herbalife Nutrition bLU cRU Yamaha team, said: "Yamaha are absolutely thrilled to be able to partner with Herbalife Nutrition on our Herbalife Nutrition bLU cRU Yamaha Race Team project. Welcoming a brand new sponsor into the sport of National Enduro motorcycle racing is not only a significant step forward for Yamaha, but also for the sport as a whole. The similarities in our two companies' brand ethos and common commitment to product greatness really do make this partnership a natural 'fit'".
The up and coming bLU cRU endurance racing stars are 26 year-old Thabang Katees from Pretoria and 32 year-old Piwe Zulu from Margate.  Thabang was selected in 2011 to become part of a sport transformation programme driven by Motorsport South Africa and in 2016, Yamaha was asked to support him as a rider of merit in their factory-supported team to give him the opportunities he deserves in the dirt bike racing sector.   Piwe started riding in 2010 and has ridden for KTM Durban and RBS Yamaha in Pinetown, amongst others.
"I joined the bLU cRU team in 2017 and am so enjoying the immense support that is offered to the riders," said Katees. "We are currently training hard for Northern Regions GXCC Championships, the National Enduro Championships and Roof of Africa and I know that the Herbalife Nutrition sponsorship is going to significantly benefit my training regime."  Zulu adds that he is really looking forward to building his strength and maximizing the benefits of proper sports nutrition through the sponsorship.
"In Thabang and Piwe we have athletes that show true potential to become really great riders, and they exert the determination and commitment to succeed," adds Back.
Rider Profiles: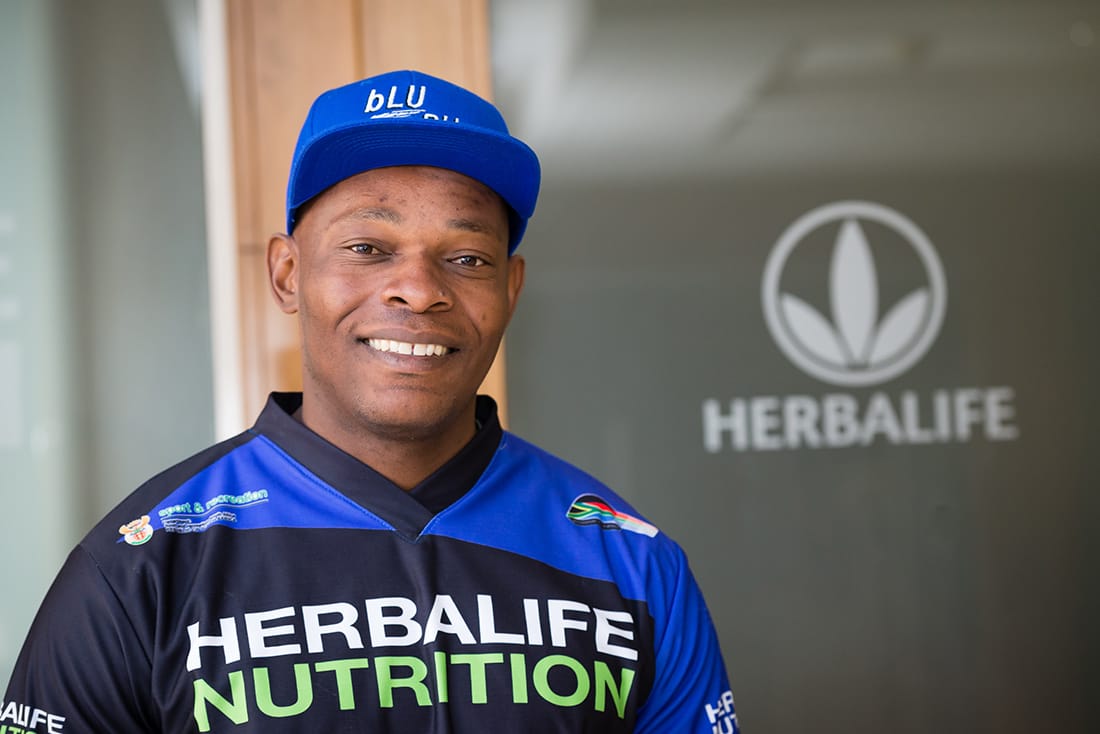 Piwe Zulu – Margate resident Piwe Zulu (32) was born on the South Coast of KwaZulu Natal. He went to Port Shepstone Secondary School and started off-road motorcycling in 2010 when he was 25 and has ridden for KTM Durban and RBS Yamaha in Pinetown, amongst others.  Biking was one of his first loves and the idea of doing it professionally has been a key driver for him.  Piwe is passionate about overcoming race obstacles and completing his races in the best possible time and is driven by a pursuit of excellence in the sport.  When not on two-wheels, he is a social facilitator for MGM Holdings, a company that works closely on economic transformation through support of entrepreneurs and other professionals. Piwe's talent and dedication is what makes him stand out and it is these traits that put him on the Herbalife Nutrition bLU cRU Yamaha Racing Team's radar. Piwe joined the team in 2017.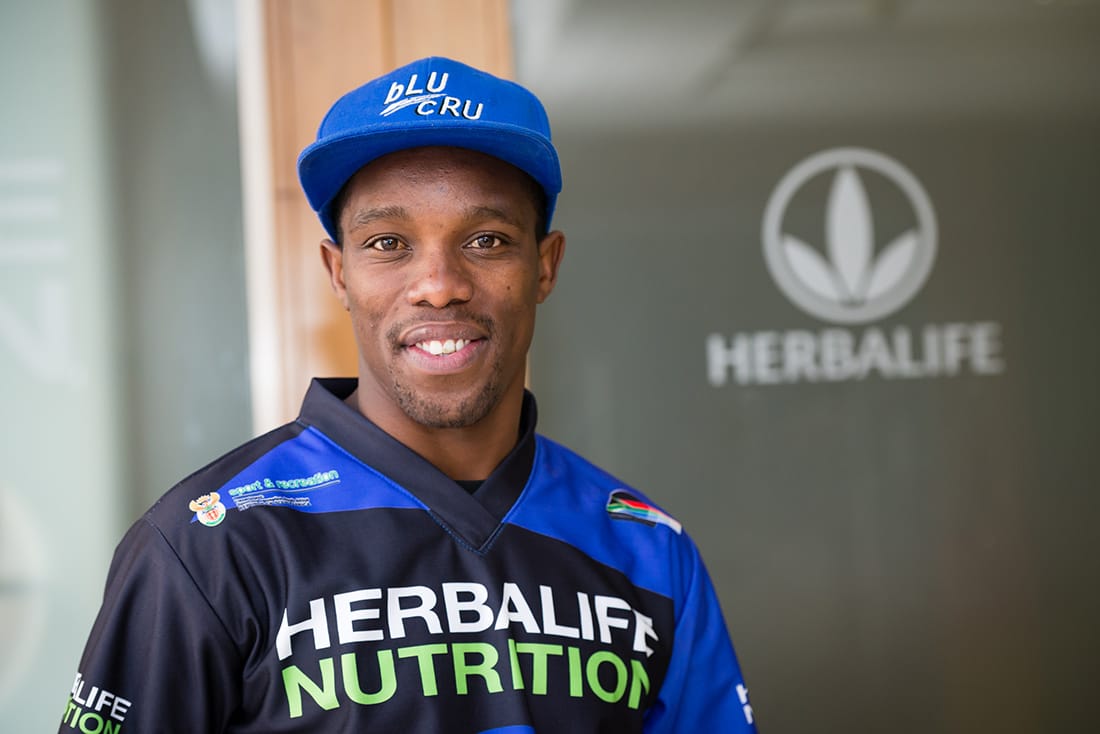 Thabang Hendrik Katees – Thabang Hendrick Katees (aged 26) was born in Pretoria and matriculated at Malatse Motsepe High School in 2010.
During his schooling years, he worked at De-Wildt on the weekends, offloading and loading bikes for riders who trained in the bush, on the mountain and in the rivers. His big break into motorcycling (which actually happened because of his bicycle) came when he assisted a motorcyclist by videoing him riding whilst balancing on his bicycle. His talent was spotted and in June 2011 the Nomadik sponsors came to De-Wildt and selected Thabang as one of six off-road motorcyclists to participate in a training programme for new riders.
In early July 2011, Thabang was selected to be a Nomadik development rider.
He relocated to Johannesburg, where he finished three years of study under mentorship at the Panacea Pharmacy to become a qualified Pharmacy Assistant whilst riding in the Motorsport South Africa (MSA) developmental programme.
The MSA approached Yamaha in 2016 to request that Thabang be included in their factory supported team as his talent and skill had reached the level where a next step was required.
Thabang became part of the Herbalife bLU cRU Yamaha Racing Team in 2017.

About Herbalife:
Herbalife Nutrition is a global nutrition company whose purpose is to make the world healthier and happier. The Company has been on a mission for nutrition—changing people's lives with great nutrition products & programs—since 1980. Together with our Herbalife Nutrition independent distributors, we are committed to providing solutions to the worldwide problems of poor nutrition and obesity, an aging population, sky-rocketing public healthcare costs and a rise in entrepreneurs of all ages. We offer high-quality, science-backed products, most of which are produced in Company-operated facilities, one-on-one coaching with an Herbalife Nutrition independent distributor, and a supportive community approach that inspires customers to embrace a healthier, more active lifestyle.
Our targeted nutrition, weight-management, energy and fitness and personal care products are available exclusively to and through dedicated Herbalife Nutrition independent distributors in more than 90 countries.
Through its corporate social responsibility efforts, Herbalife Nutrition supports the Herbalife Family Foundation (HFF) and its Casa Herbalife programs to help bring good nutrition to children in need. The Company is also proud to sponsor more than 190 world-class athletes, teams and events around the globe, including Cristiano Ronaldo, the LA Galaxy, and numerous Olympic teams.
The Company has over 8,000 employees worldwide, and its shares are traded on the New York Stock Exchange (NYSE:HLF) with net sales of approximately $4.5 billion in 2016. To learn more, visit: Herbalife.com or: IAmHerbalife.com.
About the Herbalife Nutrition bLU cRU Yamaha Racing Team
As a result of the years spent as   a "factory" race team that employed professional athletes at the very top of the off-road racing game, Yamaha Distributors South Africa (YDSA) identified the need for a support structure that allowed talented riders from previously disadvantaged backgrounds to have access to similar opportunities.
In 2017, YDSA created the bLU cRU Yamaha Team, a "factory-supported" team that complements the factory team and provides an aspirational stepping stone to those athletes that aspire and dream big. Being selected on merit for the bLU cRU team provides the first-tier goal for ultimately being selected for the factory team.
To receive the latest company updates from Herbalife Nutrition, follow @HerbalifeNews.
Client: Herbalife 
Coverage received in ZA Bikers 
Read the original article here